Pulse Market is proud to sponsor the Causeway Exchange Network ESG business seminar. We'll be joined by event supporters Enterprise Ireland on Friday, 25 of November, in Edinburgh, at the stunning Waldorf Astoria.
As you know here at Pulse Market we love partnering with organisations that champion SMEs and make doing business simpler. That's why we're delighted to share this exciting news that we're sponsoring Causeway Exchange's next business seminar: 'ESG and Vendor Risk Management - how your business can gain competitive advantage'.
Buy your tickets today from Causeway Exchange
About the seminar
Pulse Market, Causeway Exchange and Enterprise Ireland are bringing experts from Scottish and Irish blue-chip businesses, procurement bid teams and ESG/Net Zero experts together to discuss the biggest challenges businesses face in relation to ESG and suppliers as we face a recession.
The panel of experts will present best practice in supplier management and show how these strategies can be implemented in your business so as to attain your ESG goals.
Why the theme ESG and supplier management?
Environmental, Social and Governance (ESG) rules, alignment and enhancements have been at the heart of many business requirements in the recent years. None more so than with the rise of awareness following COP26 in Glasgow in 2021. Businesses are now looking for their suppliers to act, raise their game, and be accountable/aligned with their vision.
Whilst ESG has been a key business issue for some time, a greater need has arisen to have total accountability for you suppliers and supply chain. Recent events such as the Russian invasion on Ukraine, and the sanctions imposed on Russia, have ignited a demand for suppliers to be fully accountable and understand where they are buying their goods and services.
Suppliers having total clarity (look-through) of their suppliers, with due diligence completed, validation of infosec, and accreditation across ISO, ESG are the businesses staying ahead of the pack and winning business. Discover how your business can gain the competitive edge by coming along to the Causeway Exchange business seminar.
Meet the Panel
Host: Russell Dalgleish, serial entrepreneur and global networker 
Panelists: 
Tabitha Jayne, Director and Interim CEO for Net Zero Nation
Andrew Morrison, Founder and Director of AM Bid
Joanne Murphy, MBA, MCBI , COO of Chartered Institute of Banking 
Richard Carr, Group Environment Director, Webhelp Enterprise
Paul Murphy Solutions lead at Climeaction
Neil Stevenson MCIPS Stevenson, Procurement & Vendor Management, Aegon Asset Management
Buy your tickets today from Causeway Exchange
(Tickets £35 for Causeway Exchange Members £50 for non members)
Follow our socials to hear more from the panel experts and be the first to hear the exciting updates about this event.
We are delighted to be hosting our first webinar with a strong panel of speakers from the greener business world and 4th sector. We have chosen to host the 'Invest in our Planet' webinar on Friday, 22 of April to coincide with Earth Day.
Come along to the webinar for a lively and informative discussion. Discover practical steps you and your organisation can take to help your people and the planet.
Register for Invest in Our Planet Webinar
We'd like you to get to know our speakers so here are some short introductions so you can get to know them a little bit better.
Gavin Tweedie
Gavin Tweedie is the co-founder and chairman of the social enterprise Net Zero Nation Ltd and Scottish Net Zero community which he helped establish in January 2021 with the Scottish Business Network and James Napier at CBN Expert. The organisation has grown to over 1000 members and mobilised over £1bn in annual revenues to sign up to the UN Race to Zero.
Discover more about Net Zero Nation
Ellie Marshall
Ellie Marshall's role at award-winning Scottish solutions business Eco involves driving forward new ideas, bringing people together and delivering results which enable the firm to lead where others follow. As Executive Assistant to Managing Director and founder Eddie Black, she plays a central role in the adoption and development of innovations including the launch of EcoGoZero, the company's portfolio of net zero products.
Discover more about Eco
David Reid
Fuel Change is a social-enterprise movement that taps into the potential of Scotland's youth to solve the decarbonisation challenges faced by industries worldwide.
Discover more about Fuel Change
Aimee Doole
Aimee Doole is passionate about collaborating with businesses on their Net Zero journey and showcasing the role of culture and technology in creating a mindset where businesses can drive positive change - prioritising their people, the planet and profit with no trade off. Aimee's background is in strategy, marketing and communications and she has had over 10 years in the strategic brand development space primarily in the technical and engineering world. Her energy and enthusiasm has allowed brands to reach new heights across a wide variety of industries and gain national recognition and multiple awards. An accredited Workplace Innovation Practitioner, Aimee has also led many cultural and people engagement initiatives to support business growth and is regularly asked to speak at conferences both in the UK and internationally.
Discover more about Booth Welsh
David McDonald
David qualified as a management accountant with Scottish Equitable and is a seasoned Finance and Operations Director with board level experience in several sectors. As Director of Sustainable Development at UNITE Group plc, he was responsible for leading the strategic response to the emerging low carbon landscape within property development and operations. David has been involved in policy work, and helped to develop and present the first renewables route map to HM Treasury and to a parliamentary committee in 2001. He is an expert in capital investment appraisal for renewable energy and infrastructure assets.
John Dowdall
From Dublin, Ireland, John has worked in the funds industry for more than 25 years. In his early working life this was in financial services firms in the newly growing International Financial Services Centre in Dublin, with firms like Fortis (now BNP Paribas) Banque International a Luxembourg (now RBC) & Investors Bank & Trust (now State Street).
After that John Moved into the data and regtech market with SIX Financial & MoneyMate , where he created the regtech firm Silverfinch.
Discover more about Pulse Market
We'd love you to join us for the Invest in Our Planet webinar.
You can find out more about the Earth Day webinar here
Join us on zoom for our Earth Day Webinar at 8.45am - 9.45am on Friday 22 of April 2022.
The global theme for the day is 'Invest in Our Planet'. That's why we are gathering a panel of experts from six different organisations with a shared passion for helping individuals and businesses reduce carbon emissions and urgently tackle climate change.
Register for our Earth Day webinar today.
The event will be a fantastic opportunity to be part of the conversation and you will take away a plan of action to help your people, your partners and the planet.
The lively session promises to be an energetic, informative and interactive discussion with a panel of experts from the greener business world.
What is Pulse Market doing for Earth Day?
At Pulse Market we want to be a business that does more than just talk about climate change. That's why on World Earth Day we're giving away our ESG Passports to webinar attendees.
We don't want you to miss out!
Reserve your space today and guarantee an ESG Passport for free for your organisation.
Register for Earth Day Webinar here
If you are unable to attend on 22 April, you can still register to receive both the webinar recording and a Pulse Market ESG Passport.
You can visit Earth Day website to find out more about the movement that has been growing since 1970.
We're looking forward to you joining our webinar on Earth Day 2022.
Register for our Earth Day webinar today.
At Pulse Market we are always looking for ways to do better and be greener. So we decided to survey our global team to find out how green are we.
You can check out the results below and read our 6 top tips for more sustainable living.
Here are some simple ideas for your business to become more environmentally friendly
ESG reporting is top of mind for organisations in 2022 and beyond. But who is ready?
While larger organisations are appointing heads of sustainability or head of impact many smaller organisations are struggling to keep up and are feeling overwhelmed.
There are many ways businesses can become more environmentally friendly. Some small changes include:
Switching off equipment when it is not in use
Using recycled paper and ink cartridges
Encouraging employees to take public transport or cycle to work where possible
Installing energy-efficient light bulbs
Swapping to biodegradable cleaning products
Using reusable cups and water bottles
Composting food waste
Make a donation to an environmental charity or cause.
Individuals can also contribute to sustainable procurement and ESG initiatives by:
Buying products from companies that prioritise sustainability
Reducing the amount of waste they produce by recycling or reusing items instead of throwing them away (e.g., shopping bags made out of plastic bottles) and donating unwanted clothing to charity shops.
Choosing low carbon footprint alternatives like electric cars over petrol vehicles, which produce more CO₂ emissions per mile traveled due to combustion engines being less efficient than batteries.
Making a donation to an environmental charity or cause can also help further these initiatives because the money donated provides funding for research on how we can make our lives greener and more sustainable.
More and more consumers are making environmentally focused decisions it is driving positive change - this is having a knock on effect on supply chains. To help financial services buyers we designed the ESG Passport. It is a turnkey solution that is simple, educates and aligns buyers and suppliers ESG goals and vision.
Read about our ESG Vision
It felt like we finished 2021 with a few intense weeks of discussion around what could be done do maintain the target of 1.5 degrees at COP26 and then we fell into the world of Covid again and what it would mean for Christmas. It was really a jump from COP to Omicron . The big question is, was COP26 just 15 minutes of fame for ESG or should we expect more focus in 2022 and beyond.
The news since COP26 has been driven by Covid numbers and Covid drinks parties. This somewhat masks what is going on behind the scenes when it comes to environmental targets where governments are implementing measures with a view to 2030 initially and more broadly 2050. The social side of things may not have diarised targets, but is still front and centre in minds in particular with migration (somewhat climate driven) in the UK & EU, but also gender safety aspects in particular in Ireland the incredibly sad news about 23 year old Ashling Murphy who was 'just going for a run'.
Governance and regulation will be what drives much of our focus as an industry in the coming decade, but lets leave that for next time and try some crystal ball gazing of what to expect.
Post COP26, we can review the outcome and assert that 1.5 is still alive. But what does this mean for companies? 2050 is 28 years away. I've never seen a business plan for a 30 year horizon, so is it really possible to do so? Maybe not, it may be better to look at this as 7 Olympics, 7 world cups or 14 Ryder cups, whichever takes your fancy. The focus on the model athletes use to train for such events is something industry can use to develop more near term targets and more achievable goals.
And we can see this happening in the markets as has been reported about State Street Global Advisors "One of the key expectations set by SSGA is a requirement for disclosure from companies aligned with TCFD recommendations, including reporting on board oversight on climate-related risks and opportunities, Scope 1 and 2 greenhouse gas (GHG) emissions, and targets for emissions reduction".
Expect to see more of this going forward as others line up similar programmes. Expect more questions on ESG to hit your desks from not just clients, but also employees or potential employees. Expect your firm to be, if not rated, at least judged on your actions.
Time to start training your firm for the first of those 7 Olympics!
John Dowdall, CRO Pulse Market
For more info about our ESG passport contact John Dowdall today or get all the details at ESG Passport
As a start-up we have the added advantage of being agile and can respond quickly to the needs of our clients and their suppliers. And that's exactly what we've done for buyers and suppliers in the financial services industry. We have listened, developed, tested, and launched the Pulse Market ESG passport in under 4 months.
The ESG Passport has been exclusively developed by members of the Pulse team together with the Scottish Investment Operations (SIO). It is the first major outcome from our ESG working groups that we have been hosting throughout 2021 for the financial services sector.
The working group is the ESG forum led by John Dowdall our Chief Revenue Officer and John Ellis our Chief Operating Officer who meet regularly with group members from leading Financial Services companies in the UK. It has fast become the place to learn from each other and openly discuss the challenges we are each facing including the new regulations surrounding ESG reporting and the knock-on effect on the supply chains. Discussions resulted in the gem of an idea – the ESG Passport.
Members of the forum were all in agreement an affordable ESG solution was essential to enhance suppliers' knowledge and showcase ESG credentials as financial service providers are expected to measure and report on ESG.
Unfortunately, too many suppliers looking to do the right thing are missing out on RFP opportunities. It is not because suppliers lack the skills, knowledge, and expertise, it is because they lack ESG credentials and cannot afford the high consultancy fees to gain them. To continue servicing the financial services sector, suppliers will be expected to provide evidence of ESG credentials.
Enter ESG Passport for Suppliers
The Pulse Market ESG passport addresses the potential knock-on effects to supply chains in the financial industry due to the requirement to report ESG activity.
The ESG Passport is designed to support and enhance companies understanding of their Environmental, Social and Governance behaviours, helping businesses, their clients and supply chain, building business awareness and knowledge on their ESG journey to be better for good.
Businesses complete the ESG Questionnaire quickly and easily online, in return receive a personalised ESG report, a comprehensive ESG guide to enable them to act now and reach ESG goals faster, and they may publicly display their company's new ESG credentials with the downloadable Pulse Market ESG Passport.
Get a passport
For Suppliers:
The ESG Passport is available to suppliers to buy now. Find out more about the exclusive offer and bonus available for a limited time at www.pulsemarket.com/esgpassport.
For buyers
If you are in procurement or vendor management and are interested in supporting your supply chain through the ESG Passport, email a member of our team at exec@pulsemarket.com to discuss support material and supplier codes.
P.S Watch this space!
The ESG Passport is the first of many planned with further Passport launches coming in 2022 to support SMEs with their information security, GDPR, risk and governance challenges.
Today we are extremely proud to announce the launch of the Pulse Market ESG passport.
The ESG Passport launch, originally scheduled for Spring 2022, was brought forward to support SMEs who can no longer wait to address the urgent climate issues discussed at COP26. It is also driven by the ethical consumer revolution with its far-reaching impact on financial services firms and their supply chains.
Michael O'Shea, CEO, Pulse Market commented: "There is a real burning appetite across all businesses but especially within Financial Services and FinTech companies of all sizes. These companies are required to conduct themselves and their businesses in a regulated and transparent manner and make a difference for good. ESG has been the area our supporters and clients have their biggest challenges and biggest opportunities. Our platform can now support their ESG journey from first early steps to long term success."
The earlier than planned launch of the product was made possible by securing funding through Enterprise Ireland's High Potential Start-Up (HPSU) programme. And we are incredibly grateful to Carol Gribbon, Enterprise Ireland's Divisional Manager and their team for the ongoing support of our vision for Pulse Market.
Enterprise Ireland's Divisional Manager, ICT & International Services, Carol Gibbons said: "At Enterprise Ireland we have always been committed to helping founders start and grow their businesses internationally. Pulse Market is a great example of an innovation-led start-up, and we are delighted to back the company as it launches its new ESG Passport for Financial Services companies, which aligns the Pulse Market platform with the global sustainability agenda."
About the ESG Passport?
The Pulse Market ESG Passport, endorsed by Scottish Investment Operations (SIO), is effectively a sustainability health-check for financial services providers and suppliers to the industry.
Businesses complete the ESG Questionnaire quickly and easily online, in return receive a personalised ESG report, a comprehensive ESG guide to enable them to act now and reach ESG goals faster, and they may publicly display their company's new ESG credentials with the downloadable Pulse Market ESG Passport.
Mark Carruthers, CEO Scottish Investment Operations commented: "SIO is committed to supporting its membership, including prominent financial firms, as they seek to lead the financial service world globally in ESG, ensuring ethical supply chains. We are delighted to launch the ESG Passport, in conjunction with Pulse Market, to ensure that our firms' suppliers have an advantageous starting point to begin their ESG journey."
Who is the ESG Passport for?
The Pulse Market ESG Passport is designed to support the financial services industry and its suppliers who are facing new challenges to satisfy ESG measurement and reporting requirements, such as Sustainable Finance Disclosure Regulation (SFDR).
Bonus time - find out more:
You can find out more about the passport and our incredible introductory offer with additional bonus visit: ESG passport
If you are in procurement or vendor management and are interested in supporting your supply chain through the ESG Passport, email a member of our team at exec@pulsemarket.com
There's been a real buzz in my hometown of Glasgow with COP26 in the heart of my city for 2 weeks. It's been fascinating to see world leaders, politicians, businesses, activists, celebs, and people walking, cycling, sailing and flying into town from all over the globe.
Although I'm only a few miles away I was feeling one step removed from COP26. It was only the sound of helicopters buzzing overhead that was a stark reminder something major was happening across the river. As I doom scrolled through my news feed there was a sense of disappointment in COP26, accusations of green washing and empty promises. I decided to see for myself. So on a typical rainy Saturday in Glasgow, I headed out for a not so typical day across to the Science Centre for COP26. From the minute I walked into the Centre, the whole place was buzzing. The centre was filled with a sense of energy, enthusiasm and above all a sense of urgency around tackling the climate emergency.
What immediately struck me was the diversity of people and businesses present and that for me is significant. As a marketer I know the power of the story telling and how people will listen to a real-life story rather than the hard sell. Every person attending COP26 has their own community who they can share their unique story with and influence others - whether it's on social media, where they live or work. That's why I'm typing this now and hope you read this and ignore the cynical opinions and look to the millions of people taking action. As Reckitt says: 'From big changes to small habits we can all make a difference.'
Having worked with the team at Pulse Market since June I've been caught up with their passion for ESG. With my Pulse Market head on I spent the morning touring round the big-name sponsors like Microsoft, Sainsburys and Royal Bank of Scotland. However, it was the remarkable conversation I had with Marcus and Ollie of the coffee company North Star that was the most inspiring. Every chapter of North Star's story from starting up to having many, many outlets across the UK has been punctuated with doing better. Not only have they introduced the UKs first 100% compostable packaging, but they monitor every step of the supply chain and prioritise the suppliers needs to align with North Stars ESG values.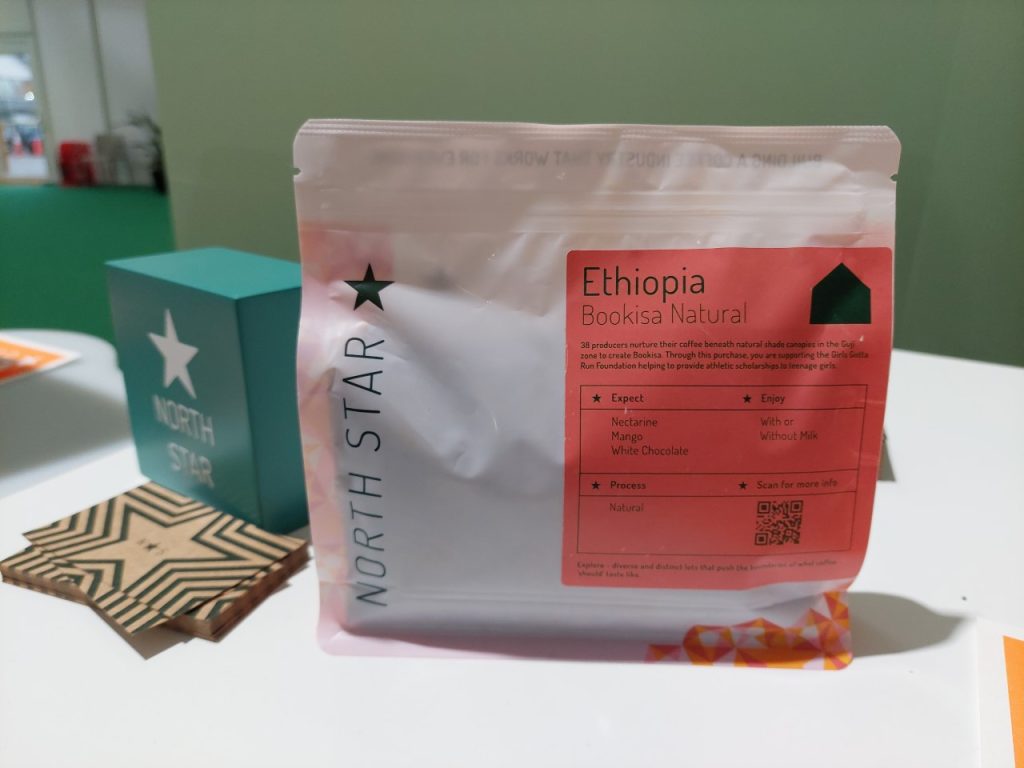 Working with Pulse Market I cannot help but think seriously about weaving ESG into the fabric of what I do in business, as marketeer and above all as a parent.
At COP26 I listened to the people behind the businesses who are driving change and that was a hugely positive experience for me. I do hope the politicians stepped off their podiums to listen to the individual stories being told by the scientists and the real people who travelled from the areas already experiencing the devastating impact of climate change.
I'm so very proud to be working with Pulse Market with founders who are driving change and weaving ESG into the fabric of the organisation, ready to change their story too.
I leave you with an 'S.O.S From The Kids' choir singing 'It's time to change the story' as it's their planet to inherit.
Here at Pulse Market we like to do something a little bit different - something that is likely to define how we do business over the coming decades, and beyond.
Over the coming years industries across the globe will be looking to commit to action with a view to hitting ESG targets in 2030 and 2050. At Pulse Market we are placing ESG, environment, social, governance at the heart of our organisation. As we put it, our planet, our people, our purpose.
ESG defines everything about Pulse Market. As a startup, we come with no baggage. We can start with a clean sheet, and the freedom to choose how we approach ESG in our new venture.
As we begin to uncover the depth and breadth of ESG, it's far from simple, even as a startup with a blank sheet. Other firms have decades of business behind them and must look at how they transition to a new way of doing business, and each organisation is looking to a similar destination. However, each organisation is unique therefore has a hugely different starting point on the journey travelling over very different terrain.
Where to start?
For us, the starting point was an open dialogue amongst our founders, our team and our business contacts. We realised that we are at the learning stage, and many other firms are in a similar place. Let's be honest, we are at the beginning of the beginning of our journey. Learning and collaborating with others is the route we are taking to fulfill our ESG responsibilities.
We attempted to break the journey down into two different areas:
an ethical nature of what we want to do as a business
the more regulatory one where we look at what is required of us by regulators.
This led to a discussion around what is required on a business-to-business basis through ethical supply chains, and what we require at a product level within a business - all vastly distinct factors.
We can go further in breaking this down into different areas of the E, the S and the G, and we could easily have over complicated things, but we decided to look at what our initial focus as a firm would be.
Introducing the Pulse Market ESG Working group: driving change and understanding
So, we thought the best thing to do was bring together firms to listen, discuss and advise each other. We formed the Pulse Market ESG Working Group comprising of Tier 1 asset managers, FinTech, RegTech firms along with consultancies. This has become a regular meeting place to come together to debate the challenges we are all facing tackling environmental, social and corporate governance issues.
Secondly, we created the ESG LinkedIn members group, which is a community where we share ideas, share discussions, and talk about hot topics relating to ESG.
Also, on the Pulse Market platform, we will host an ESG zone where firms can find and evaluate ESG solutions of relevance to them. Next step is to create a learning zone with a repository to share industry articles we believe of relevance to the community.  
As I said earlier this is the beginning of the beginning and we will continue to evolve and launch new products to support ethical supply chains.
If you'd like more information about Pulse Market solutions and our ESG Vision get in touch